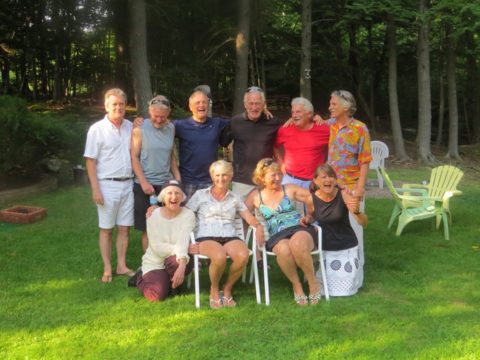 SAMPLE OF TUNES FROM THE HENMAN FAMILY CD BEING RELEASED NOV 2017
My Home Town…. Jean Beks( Henman)
It Can Wait …. Pat Henman
Round And Round…. Jim Henman
Mississippi Mud…. Paul Henman
In The Chapel In The Moonlight….Julia Henman (Deceased  Mother in late 80s)
 Jim Henman here, a founding member of Canada's April Wine , and now an acoustic solo touring artist and performing acoustically with Myles Goodwyn of April Wine fame this last year.  I come from a family of ten brothers and sisters ranging from ages of 53 to 70.  In 2013, we  almost lost a sister to a car accident and a younger brother had an incident .  Because of these two events my brothers, sisters and I decided to do a project together, something we could be passionate about.  Many of us sing, play instruments and write songs, so a Cd of original songs was something we could do and a natural choice.
In 2013 my sister Pat, and her daughter Maia, were hit by a drunk driver while driving home from Calgary, Alberta to Nelson, BC.  An intoxicated driver crossed the road and collided with them head-on.  Pat actually died at the scene but was revived and went through the long process of recovery in the Calgary Foothills Hospital.  My niece Maia was severely injured on her ankles and legs, abdomen, pelvic region and wrists.  Both these ladies will live with with the consequences of these injuries for the remainder of their lives.
A few years later one of my younger brothers suddenly lost consciousness while out walking.  He has lived an active life playing baseball and hockey while always keeping in shape.  The Doctors believe it may have been a mini stroke. The police suspected a car was involved.  Just after this last  event my wife suggested that the family should do some project together because of  "these incidences of close encounters with our two siblings".
While in Cape Breton, I mentioned the idea of a family Cd to a few sisters and they decided immediately that they would love to do it.  The idea to donate a  portion of proceeds to MADD was a natural fit.  We were offered generous financial support to record the project and the family was engaged fully in the planning discussions.  It became a passion for my family to get the songs written and recorded.  We started October, 2016 and we will be finished at the end of October, 2017 when the Cds will be available for purchase.
I am happy to say our sister Pat has composed two of the songs, "You" and "It Can Wait".   She sang lead vocals on them while here on a family visit from Nelson, BC in early September.  Our brother Paul contributed 3 songs "Mississippi Mud", "Haven't Finished Today" and "Every Other Day", while  sister Joan wrote lyrics for her very first tune called "White House" (On The Hill), a  song which allowed us to relive lots of family memories .  "White House" spoke to all 10 of us as we had lived in 2 white houses on hills from the early 50s to late 70s.  Our sister Jean wrote and sang two tunes entitled "In Love With You" and one of my personal favorites, "My Home Town" a statement on how the faces of our home towns are changing.  Henman close friend and April Wine co-founder Myles Goodwyn makes a guest appearance on this tune.   I have two songs on the project "I Can't Remember Her Name", based around a youthful romantic evening at The Shore Club in Hubbards, Nova Scotia and "Round And Round", a co-write with Nova Scotia's Joel Plaskett.  Even our 88 year old mother makes a posthumous appearance on an old tune, "In The Chapel In The Moonlight".  All 5 other family members Jack, Bob, Harold, Judy and Stephen  have contributed to the  background vocals.
I think I enjoyed working on this project more then any of the many of which I have taken part.  The fact that it will financially support the efforts of MADD, in educating Canadians on the consequences of mixing alcohol and motor vehicles gives my family great satisfaction.
My family is so lucky to have so  many vocalists, guitar players and  accomplished song writers.  This Cd project has brought all 10 of us closer together, more than when we were kids.  Although not kids anymore,  at this time it can feel like it.
Extended video Promo at https://vimeo.com/242274944/14355b9800
Here are a few links to people who have worked on the project.
Scott Ferguson (who has his own family story of his son being hit by a drunk driver) engineered the sessions at FMP studio.
The  FMP Matrix
http://fmpmatrix.com/
 Pat Henman
https://www.facebook.com/patricia.henman.7